Yaphank Trail of Terror: A Trek Through a Terrifying Forest
Home » Blog » Long Island's Best Weekend Events, Long Island's Local Halloween Fun Guide, Long Island Haunts: An In Depth Look, Long Island Haunt News, Halloween Headlines
October 13, 2015 By Christian A.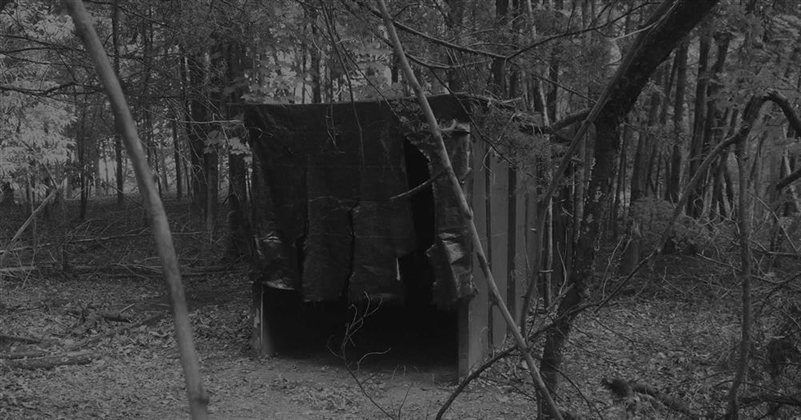 The Yaphank Trail of Terror has returned for a third consecutive season, but the haunted trail actually has its roots in the late '90s when Yaphank's Tales of the Haunted Forest first began scaring locals behind the town's Presbyterian Church. Much has changed over the years, including a heightened level of scares intended to frighten older patrons, but the heart and soul of the trail remains the same; it is a startling hike through a dark forest filled with creepy creatures waiting to strike dread in the hearts of any who pass, all done for a good cause. Proceeds from the trail will go to benefit the Yaphank Presbyterian Church, which sadly lost its historic main building in 2013 to a fire sparked by a faulty furnace pipe.
Major Highlights
The trail is a winding path through a densely wooded area, fostering an eerie atmosphere ideal for some haunted fun on a cool autumn night.
Line Queue Entertainment: There is no line queue entertainment, but there are other fun activities to participate in before you get in line or after you exit the trail.
Overall Length: Roughly 20-25 minutes for the main attraction.
Appropriate for: Ages 10+, parental discretion is advised for children.
Ticket Pricing: $10
Location and Visibility: The trail is located right on Main Street in Yaphank, but may be difficult to spot at night. Approach slowly and look for a signboard underneath a lamp at the front of the parking lot.
Parking: Free parking is available in front of the trail in the church parking lot.
A Deeper Look
Though the Yaphank Trail of Terror may be found behind a church, it could not ask for a spookier location. The thick forest weaved around its path mantles the trail in a thick blanket of darkness, blocking out most light from the stars above and forcing visitors to watch their steps very closely on the uneven terrain. Before a single monster pops out to terrorize its victims, this haunt already bears the distinct atmosphere of many a Horror movie, making it a perfect destination for anyone seeking a good scare before Halloween.
Upon reaching the entrance to the Trail of Terror, guests are greeted by soft-spoken gatekeeper whose unsettlingly monotone speech warns guests of what they can expect to find along the trail. Should patrons find the courage to press on, they will be led through the forest by a guide carrying a lantern which will light the way…well, it will light the way most of the time, at any rate. Following close behind the guide at a zombie-like pace guests will have plenty of time to take in the hair-raising ambiance of the woods, never knowing from where the next monster or madman will come. There are several enclosed areas along the path, each with its own spooky theme; you can fully expect a ghoulish resident to be waiting inside, but knowing that they're there won't save you from the shocks they have in store.
Assuming none of the trail's creatures decide to make you a permanent fixture in the woods, you will eventually come to one of Yaphank's most unnerving scenes—an assemblage of scarecrows forced into a rather precarious position. This marks the end of your time with the guide and the entrance into the haunted maze. Try not to make a wrong turn in here, as you never know what might be hiding around each corner. You can easily get lost in the maze, as my own group did, but if you find your way out you will find the welcome sight of some less-than-spooky games and a roaring bonfire.
Congratulations! You've managed to survive and now you can unwind with some entertainment or relax by the fire. Concessions are available as well, including jumbo marshmallows to roast over the fire, and if your legs aren't too weak from fleeing through the maze there are games which offer a great opportunity to have a little extra fun before calling it a night. On the evening our group went there were giant inflatable human hamster balls, which added a calming sense of whimsy to cap off the trip, though running inside them was a bit more physically taxing than anticipated at first glance. From the fun fall festivities outside the trail to the hauntingly exciting experience within the woods, the Yaphank Trail of Terror offers an amazing Halloween experience, and does so for a great cause!
For more info on visiting the Yaphank Trail of Terror this Halloween season, including dates & times, photos, videos, and reviews from fellow Haunt Seekers, be sure to check out their profile page!
Photo Gallery