Spooky Fest: Scary Chills for the Brave and Fun Thrills for All Ages!
Home » Blog » Long Island's Best Weekend Events, Long Island's Local Halloween Fun Guide, Long Island Haunts: An In Depth Look, Halloween's Hottest Trends, Little Ghost & Ghouls Corner , Long Island Haunt News, Halloween Headlines
October 20, 2015 By Christian A.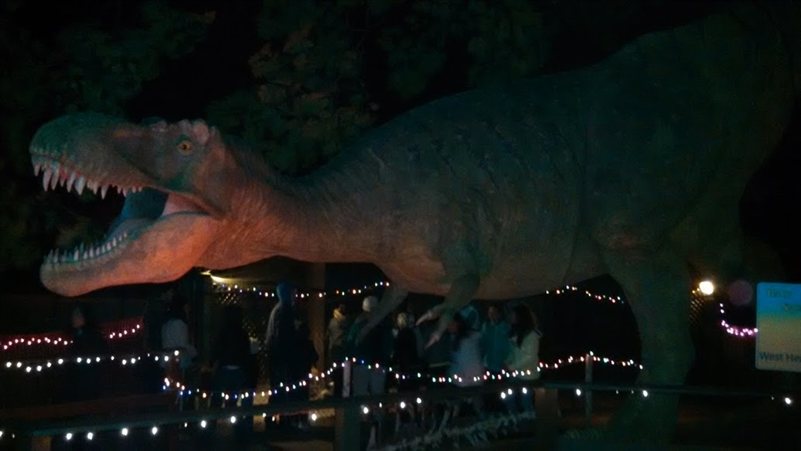 The Center for Science Teaching and Learning is once again celebrating Halloween with its annual Spooky Fest at Tanglewood Preserve in Rockville Centre. This nighttime festival is fun for all ages, featuring two haunted attractions for adults and older kids, a not-so-spooky trail for younger children, and a whole lot of other fun activities. From face painting to fortune telling and a live animal exhibit, Spooky Fest can easily provide an entire night's worth of entertainment all for a single admission price.
Major Highlights
The haunted attractions offer up some scary good fun, and the Amazing Animals Live Exhibit will delight animal lovers of any age. With so much to do, Spooky Fest is a great value that anyone can enjoy no matter how young or old he or she is.
Line Queue Entertainment: A few monsters may sneak up on patrons outside the Maze, though there did not seem to be much else outside the other attractions.
Overall Length: 10-15 minutes for each haunted attraction, but there are enough activities to make a whole night out of Spooky Fest and you can spend as much time as you'd like in some of them.
Appropriate For: Everyone. The Spooky Walk and Maze of Madness may be too frightening for younger children.
Ticket Pricing: $15 for all attractions, or $10 for only the non-scary attractions.
Location and Visibility: Spooky Fest is located at Tanglewood Preserve. You may not be able to see the event directly from the road, but if you're in the area and have come to a series of blocked off roads you're likely in the right place.
Parking: Parking is on the street and free. There are many side roads in the vicinity, but don't be surprised if you have to park a few blocks away.
A Deeper Look
Scary Attractions
Spooky Fest features two scary attractions intended for older and braver audiences: The Spooky Walk and the Maze of Madness. Each takes about 10-15 minutes to progress through, depending on your pace, and is full of frightening creatures and deranged individuals.
The Maze of Madness is a partially outdoor, partially covered haunt which will disorient patrons with twisting paths and scenes of almost total darkness. Though there are points where one can barely see in front of his face, they may come as a relief for some as menacing clowns, hungry cannibals, and bloody body parts are among the sights you will see when you can do so. There are many shrieks to be heard here, though you'll not know whether they are coming from the monsters who reside in the maze or the guests who entered before you until it's too late. Some of the maze's occupants seem to be trapped, and though there is little you can do to help do not expect them to be particularly happy when you start to leave them behind. With terror lurking around every bend, it's no wonder why many of those who manage to make their way out of the Maze of Madness do so running and screaming.
The Spooky Walk is out in the open, providing a bit more visibility from the night's sky than is afforded inside the Maze, but that does not mean it is any less scary. This attraction sends patrons onto a haunted trail through the woods where a toxic spill has transformed the land into something dark and twisted. Men and animals alike seem to have mutated into horrifying monsters hungry for human flesh; once they've caught sight of you they likely won't wish to let you leave. Even bodies that appear to be dead may spring into action to give travelers a good scare! Along the trail you will find all sorts of unsettling scenes, and as you draw nearer to the source of all this terror the creatures and structures within the forest begin to radiate, glowing from the spill that transformed them. Residents old enough to remember when Long Island was powered by a company before LIPA (or PSEG, for that matter) may get a kick when they discover the cause of all this chaos, but those closest to the spill are also the most affected by it and should not be trifled with. If you move quickly you may break free from the haunted trail in one piece, and be able to enjoy all the non-scary attractions Spooky Fest has to offer.
Non-Scary Attractions
While the Maze of Madness and Spooky Walk may be too intense for younger guests, Spooky Fest still has a lot of activities to offer for the whole family. Chief among them is the Not-So-Spooky Walk, a delightful, colorfully lit trail where children can meet friendly Halloween characters. The displays are rather alluring and there are opportunities to stop for a family photo, so be sure to bring a camera! After departing this fun trail, kids can head to the arts and crafts area to make some fun seasonal crafts, which they can bring home as souvenirs.
The Mystic Den will entertain children and adults alike. Here you can get your face painted or meet a fortune teller who will look into your future! Merry Monsters and other characters will be walking around the area, making for another great photo opportunity, and the Halloween Theater will tell a fun story periodically throughout the night.
Animal lovers will definitely want to visit the live exhibit while they are at Spooky Fest. This exhibit is filled with educational displays about all sorts of critters, as well as live displays of colorful, cute, and fascinating animals. Snakes, turtles, orange birds, owls, and goats will enthrall visitors; there's even a giant dinosaur, though that creature does not seem to be alive, thankfully.
With so much to see and do, Spooky Fest makes for a festive and fun experience for everyone, young or old, and can easily provide a full night's worth of thrills and chills! For more info on visiting Spooky Fest this Halloween season, including dates & times, photos, videos, and reviews from fellow Haunt Seekers, be sure to check out their profile page!
Photo Gallery