Farmingville FD Fright House: Unique Frights at an Unbeatable Price!
Home » Blog » Long Island's Best Weekend Events, Long Island's Local Halloween Fun Guide, Long Island Haunts: An In Depth Look, Long Island Haunt News, Halloween Headlines
October 6, 2015 By Christian A.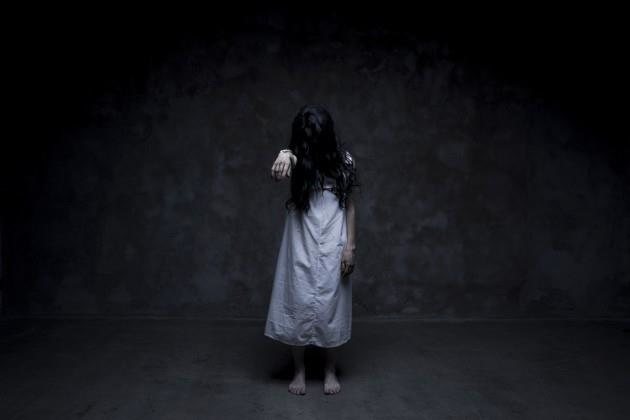 Photo by:
Farmingville FD Fright House
The Farmingville FD Fright House may appear modest from its unassuming exterior, but what hides behind its firehouse façade is an enthralling haunted experience handcrafted by the firefighters and volunteers who have assembled this spooky celebration of the Halloween season. Just about every room, prop, and scare in the haunted house was custom designed by the crew, which means each and every fright that makes you jump or scream is one unique to the Fright House. Coupled with energetic actors full of youthful exuberance, this haunt serves up great scares at an incredibly reasonable price which makes the trip well worth it.
Highlights
Custom props, energetic actors, and a very low admission price make the Farmingville FD Fright House not only a fun, spooky way to spend an evening, but also a great value for the dollar.
Line Queue Entertainment
There is no line queue entertainment, but food and refreshments are available in the Fire House waiting area, including hot beverages which make for a great way to warm up on a cold night.
Overall Length: Around 15 minutes.
Appropriate For: Most ages, though parental discretion is advised for younger children and those who may scare more easily.
Admission: $8
Location & Visibility: The firehouse is located on Portion Road and highly visible.
Parking: Free parking can be found on the right side (when facing the building) of the firehouse.
A Deeper Look
At $8 per person for admission, the Farmingville FD Fright House offers an alluring price tag for haunt seekers on a budget as well as Halloween lovers, such as myself, who try to attend as many haunted happenings as possible each year. Don't be fooled by the price tag, however; the Fright House is a genuinely entertaining experience regardless of cost. That it is inexpensive and the proceeds benefit the fire department is simply an added benefit.
Upon arrival patrons enter through the front of the firehouse where they can enjoy hot food, snacks, and drinks before trekking out to the haunted house. You may find a few little monsters roaming around the building, and when your turn to venture out into the dark night comes they will help guide you to the haunt proper. Sadly a weekend full of heavy rain and strong winds forced the firehouse to take in many of the decorations that would have otherwise appeared on the trail to the Fright House, but there were still a few surprises waiting under the starless sky (it is also worth noting that this part of the attraction is outdoors and partially on grass, so wear appropriate footwear when you go). Before long you will find yourself before the main attraction: a house full of terrifying creatures and spooky winding paths.
Once inside you will quickly find all sorts of insane residents and creepy creatures wandering about, some waiting for the perfect opportunity to startle unsuspecting guests. What you won't find are props or animatronics that you have seen at other haunts. The entire Fright House has been designed and crafted by hand; each room and every surprise is one you will only see at the Farmingville FD. Of course, some familiar themes are present to play off the Halloween season and feast on the phobias of those who enter. At some points within the house you may even feel lost or trapped, uncertain how to proceed forward. Should this happen it is likely best to keep pressing on; you wouldn't want one of the monsters to get too close after all, some of them can be rather terrifying. Keep moving forward and you might just make it out alive!
Fortunately, my group of haunt-goers was able to escape the haunted house, after which we took a moment to discuss the experience with some of the firefighters behind the terror. I was a little surprised to hear one of them describe the Fright House as appropriate for most ages—it was scary enough that within my party of full grown adults at least one member found herself clinging to the rest of us—but he explained that the monsters within have been instructed to hold back if they see a small child who appears too frightened for the full intensity the house is capable of. This much did not come as a surprise, as I found many of the haunt's actors to be incredibly engaging and responsive to my group's comments and attempts to escape; clearly they were watching their victims closely and reacting accordingly. Many of the haunt's actors are, in fact, kids themselves, so it would not be unreasonable to think braver youths could attend this attraction, though I would still advise parental discretion as some children will likely handle the scares better than others.
Farmingville FD's Fright House is a pleasantly frightful experience for anyone who loves the Halloween season, but if you want to know more about what hides within you'll have to go explore the haunt for yourself. We don't want to spoil all the great frights or effects, so bring your friends and family (if they're brave enough) and get ready for a night full of terror!
For more information on visiting NYZ Apocalypse this Halloween Season, including dates, times, photos, and more, be sure to check out their profile page!