Chamber of Horrors Presents: A Very Scary Xmas - A Christmas Fundraiser!
Home » Blog » Long Island's Local Halloween Fun Guide, Long Island Haunts: An In Depth Look, Long Island Haunt News, Halloween Headlines
December 6, 2017 By Cait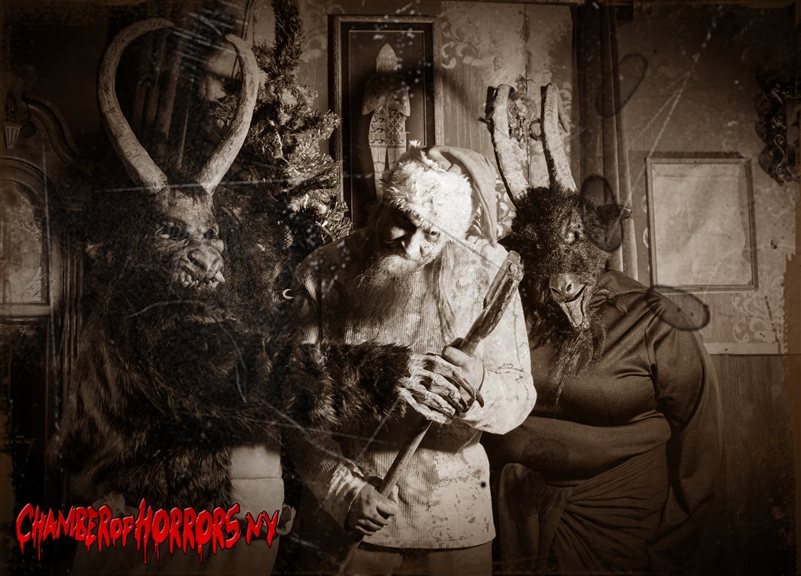 Chamber of Horrors NY is bringing back A Very Scary XMAS, their exclusive Christmas-themed Haunted House!
Chamber of Horrors NY is transforming their 2 haunted attractions into a Christmas Horror Extravaganza. A Very Scary XMAS is a holiday fund-raising event sure to send shivers down anyone's spine. December 8th, 9th, 15th and 16th the show is open from 8 PM until 11 PM. Tales of Terror the first haunted attraction is run by Granny Muerte who has come to town with her killer stories. A disturbing collection of holiday frights such as Krampuses, Killer Snowmen, Christmas killers, Zombies and more! Santa's Workshop is the second haunted attraction run by the jolly man himself. Santa has transformed the lovable workshop into an industrial factory cranking out demonic toys.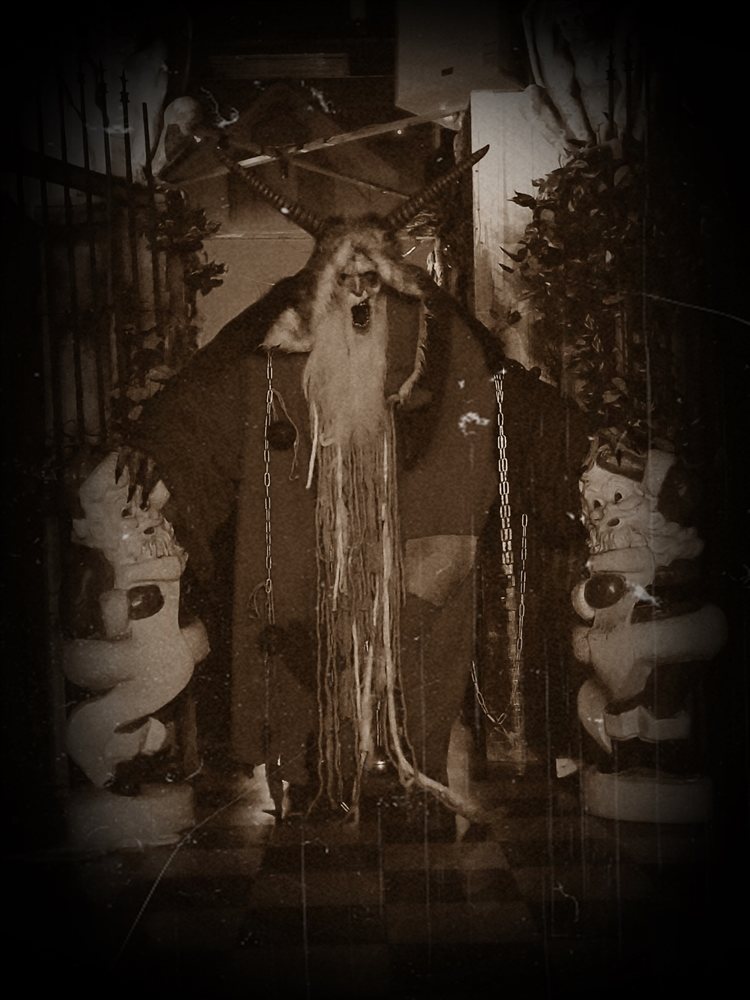 "We were devastated and our lives turned upside down," said Matt Guiliano, one of the events co-Owners. On Halloween Night at approximately 2:00 AM in the morning a group of thieves broke into Chamber of Horrors and made away with the company safe. The contents of the safe included the Actor Payroll, Facility Rent, Personal Finances of the co-owners and a generous amount of ticket sales from the Halloween season.
Marty Arominski when asked about the situation simply said "This was a huge loss for us as owners and for our Haunt Family. It could be the end of our 6 year run." After learning about the theft, the cast and crew who put together Chamber of Horrors donated most of their pay for the Halloween weekend to help out the owners but one individual knew it wasn't enough. Robert Frankenberg jumped into action with the veterans of the haunted attraction and created Crooked Christmas.

A fundraiser to ensure Chamber of Horrors returns for the 2018 season and the owners will be okay through the Winter months. "This is about more then the business of scaring people, Matt has children. Christmas time is about giving back so that is exactly what we are doing. We are going to save these gentleman's families" said Robert Frankenberg one of the events Managers.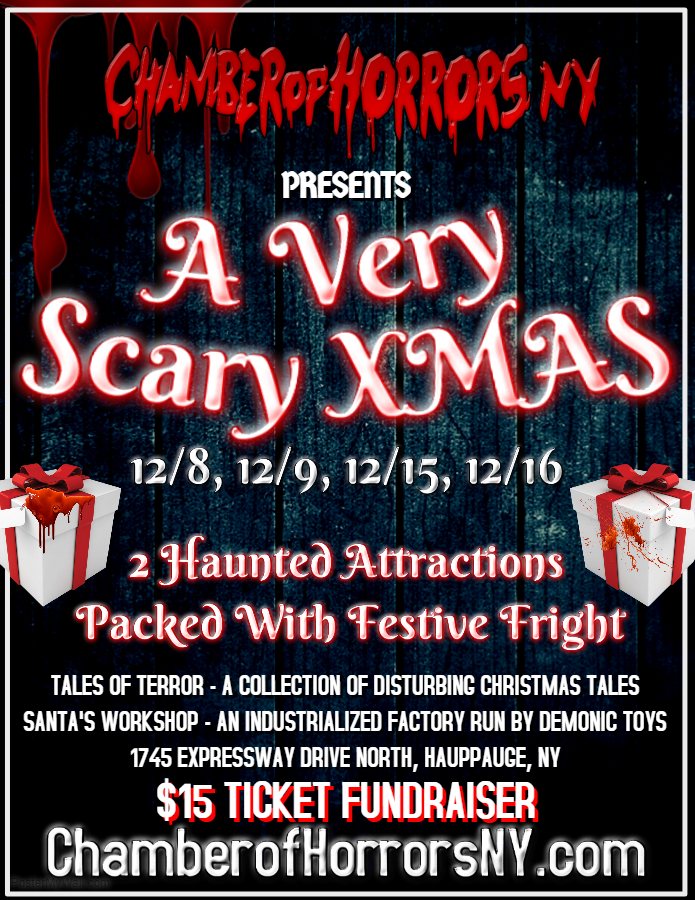 When asked what we can expect at a Very Scary XMAS, Robert responded "Killer Snowman, a Krampus for sure, Cannibal Christmas Dinners and even a Christmas light electrocution!" Guests will enter the building to and be greeted with the sound of Christmas carols however they have an eerie tone about them. Once inside guests will make their way through the Tales of Terror, a Victorian mansion saturated in festive fright and horrendous holiday decor. Once they make it through they will venture through Santa's workshop which is an industrial factory with demonic toys running around. Killer Teddy bears, Maniac Wooden Soldiers and more! Oh my! When guests finish there Haunted Attraction excursion they will have their picture taken with a demented Santa Claus!

All of the Actors, Crew, and Cast are volunteering in order to make this event happen. They are now asking everyone who has once come through their doors to get scared over the past 10 years to come back through and help us scare up a good cause. Tickets are only $15 and include both attractions and the digital photo with Santa. Donations to save Chamber of Horrors are also being accepted. For Donations or Sponsorship opportunities, please email RetroSoulsNY@gmail.com.

Event: A Very Scary XMAS
Event Date: December 8th, 9th, 15th and 16th, 2017
Event Time: 8:00 pm - 11:00 pm
Event Location: Play Like A Pro, 1745 Expressway Drive North, Hauppauge, NY 11788
Contact Number: 631-905-6307
Contact Email: XmasHorrorShow@gmail.com