NYZ Apocalypse Presents: "Trumpocalypse, Make America Sane Again" - Opening Memorial Day Weekend!
April 5, 2016 By Chelsea T.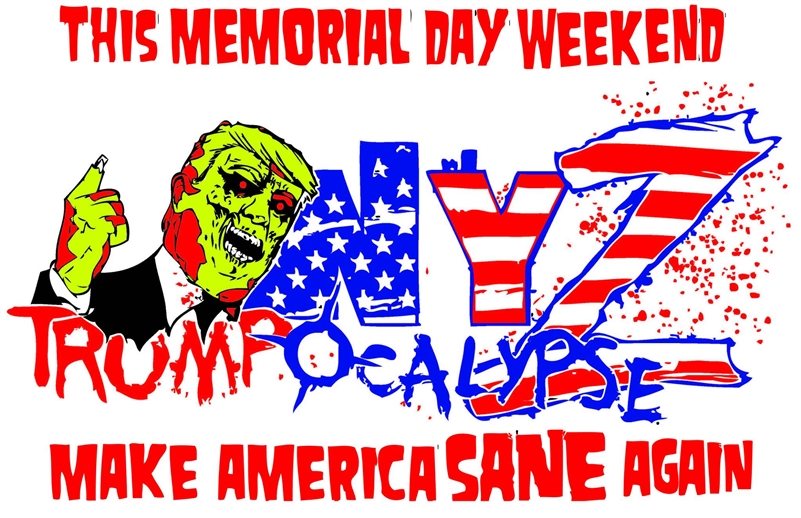 This Memorial Day Weekend - Trumpocalypse - Make America Sane Again
Photo by:
NYZ Apocalypse Facebook
Can you survive the Trumpocalypse? Find out by testing your skills this Memorial Day Weekend at NYZ Apocalypse in Deer Park! During this interactive survival experience, you won't just be taking on any zombie; these undead that are set to swarm are the clones of the 2016 presidential candidates. Yes, that's right, they're clones.
The Secret Service came up with a plan because of each candidates ever decreasing popularity, and clones were the answer. Whether it was an intentional side effect or an over-sight by the medical staff who participated in the experiment, the clones became zombies, thirsty for human brains!
When Mr. Trump heard the terrifying news, he immediately wanted to bomb the zombies and take them all out at once. But he has since reconsidered his position, which he often does. Now, Mr. Trump will be lending his leadership skills and expert negotiation tactics to help bring an end to this outbreak. The Apollo Prison has been taken over by Mr. Trump, his staff and The Secret Service. It is your job to visit this top secret facility to utterly destroy the zombie presidential candidate clones and preserve the sanctity of the 2016 presidential primaries.
Although the event won't be happening until Memorial Day Weekend, NYZ Apocalypse will be opening their doors on Thursday, April 14th at 8 PM for a media-only event. In the meantime, it is in your best interest to prepare for the Trumpocalypse the best you can! NYZ Apocalypse has recommended this event for those 16 and older, but it is not a requirement.
Click here to stay updated and to purchase your tickets in advance when they become available!