Haunted Houses on Long Island Hiring for the 2017 Halloween Season
Home » Blog » LIHauntedHouses.com News and Updates, Long Island Haunt News
July 19, 2017 By Chelsea T.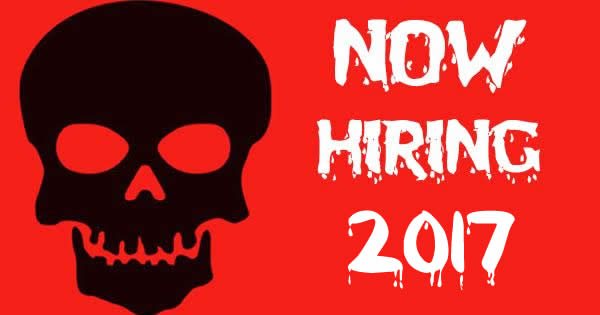 As we enjoy the Summer here on Long Island, the Halloween Season is creeping up on us. Tons of Haunted Attractions all across the Island are preparing for the Haunting Season, and have been for quite some time now.

To get things ready to scare Long Island locals this year, Haunted Attractions are in the hiring process and looking to find scare actors or other employees to help the haunt run smoothly all season long. Take a peek at the list below to find a local haunt to work at during the 2017 Halloween Season!
Bayville Scream Park
8 Bayville Ave., Bayville, NY 11709
516-62-GHOST
Cemetery of Lost Souls
350 Broadway, Massapequa Park, NY
516-620-4509
Restless Souls Haunted House Complex
301 West Hills Road, Huntington Station, NY 11746
631-319-9662 | RestlessSoulsHauntedHouse@gmail.com
Note: Actors under the age of 18 must return a signed minor waiver.
SpookyWalk at Camp Paquatuck
2 Chet Swezey Rd., Center Moriches, NY
631-878-1070

Yaphank Trail of Terror
65 Main Street, Yaphank, NY 11980 (Yaphank Presbyterian Church)
631-282-8223
Is your Haunted Attraction hiring? Email Chelsea@HauntedHouseMedia.com to get your Haunt added to the list & be sure to check back as we'll be updating the list regularly!