Check Out the Terrorizing Fun Happening this Halloween Season at HorseAbility Haunted Hay Barn!
Home » Blog » Long Island Haunts: An In Depth Look
October 17, 2016 By Haunt News & Press Releases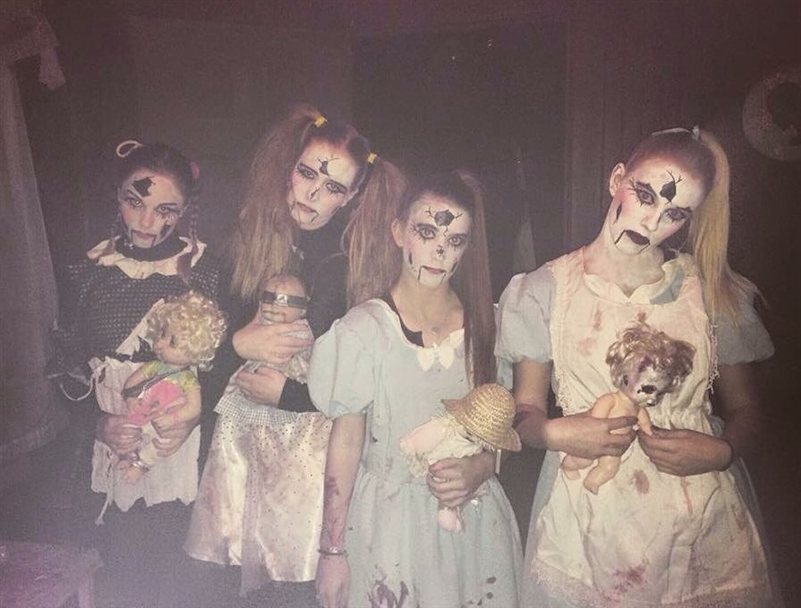 The Dolls of the Haunted Hay Barn
LIHauntedHouses.com recently sat down with Jamie Thomas-Martin of HorseAbility Haunted Hay Barn, to discuss what's new at HorseAbility Haunted Hay Barn for the 2016 Halloween Season! Located in Glen Head, this attraction takes place at the historic 1914 horse stables, the ideal setting for a macabre atmosphere.
At HorseAbility, haunt-goers get to wander through a dozen uniquely themed rooms, each one sure to give you the creeps! Do you and your friends have what it takes to complete the journey?
What's new at HorseAbility Haunted Hay Barn for 2016? Do you have any new rides, attractions, or special features that Haunt Seekers should know about?
We are thrilled to have had the opportunity to add 5 new rooms to our Haunt this year. As always we change around the themes each year, this year you will still find clowns and dolls but also find some new characters - maybe even a white walker or two!
What are you most excited about for the 2016 Halloween Season?
We are excited for the opportunity to grow our haunt. Each year we have been really stretching our creativity in out building efforts. This year we have got some pretty impressive sets that were all created and crafted by our crew.
What differentiates HorseAbility Haunted Hay Barn from other local haunts in Long Island?
Our haunt in constructed in a 100 year old building which you can feel the history just stepping foot onto the property. There are many times you can sense that the ghouls we put in it are not the only ones that are inhabiting the haunt. Our haunt is 100% a fundraiser, 100% created and run by volunteers to support our Center for Equine Facilitated Programs, the special needs clientele we serve, and our amazing horses.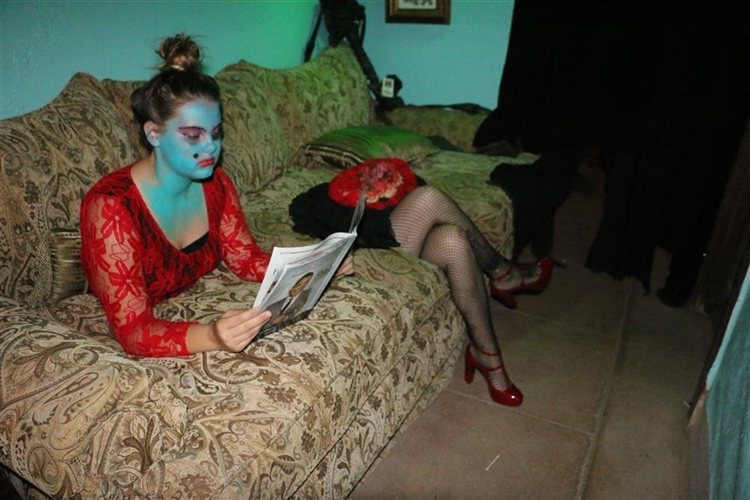 How long has HorseAbility Haunted Hay Barn been in business? Can you tell us a bit more about HorseAbility Haunted Hay Barn's history?
This is the 3rd season for our Haunted Hay Barn. One of our board members, the co-chair for our haunt, was one of the people who ran the Bayville Haunted Firehouse. I worked for a few years with their haunt and strongly thought our venue would make an amazing haunt. When they unfortunately had to disband due to the extensive damage to their haunted house after Hurricane Sandy the opportunity to work together on a new one to benefit our not-for-profit became a possibility.
What's your favorite experience since opening HorseAbility Haunted Hay Barn?
There have been so many memorable parts of the Haunted Hay Barn since we began, I would personally say that seeing so many of our "normal" volunteers become the most deranged characters has got to be my favorite thing each year.
How long is a typical haunt experience at HorseAbility Haunted Hay Barn from start to finish?
From the start to finish, it takes about 20 minutes or so make your way through the Haunted Hay Barn. Could be more of less depending on how much you chose to interact with some of our actors or if you just run through the room.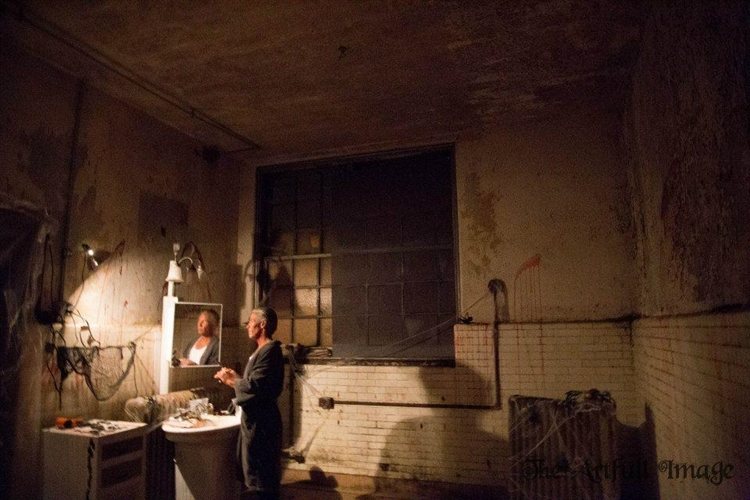 On a scale from 1 to 10, how scary would you say HorseAbility Haunted Hay Barn is? Why?
I would love to say 10, but I'm fairly biased. Based on level gore, actor interaction, and polling of those who have come through the haunt I would say a strong 8-9.
Does HorseAbility Haunted Hay Barn's property have any real haunted history? Do you have a spooky encounter you'd like to share?
As stated before, personally there have been many times you can feel that you are not alone in the haunt. There is many stories about the F. Ambrose Clark Building and estate that would lead you to believe that it is haunted. There is one light in the house that goes on and off on its own, at the most opportune times. The other night as I was trying to fix sound in the room during the haunt, my flashlight that had given me no other issue before (or after) that continued to blink out on me. Everyone who works for us knows my feeling about that room.
What inspired you to open up a haunted attraction? What's your favorite part of the business?
I am a HUGE Halloween/horror person, as is my co-chair Rae. I personally love working in the haunt getting to be different creepy characters each night. As we continue to become a bigger within the scene it has been amazing to meet others in the business that have all been so supportive and have great advice to help us just keep getting bigger and better.
How has new technology (i.e. animatronics, special props, etc) helped you to enhance HorseAbility Haunted Hay Barn?
As we are a not-for-profit, we do not have much of a budget when it comes to props and all. Technological, our haunt is not as advanced as others. We do have a few animatronics but more so our haunt concentrates on the handcrafted props/sets and attention to detail with our creations.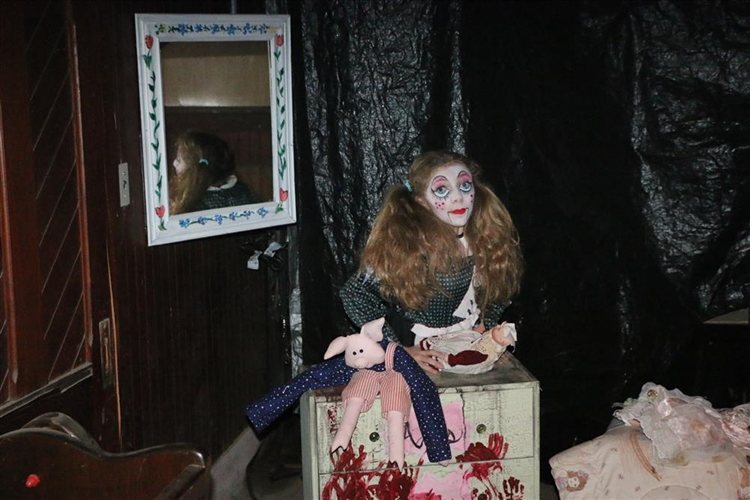 Can HorseAbility Haunted Hay Barn accommodate large groups? How many people can experience HorseAbility Haunted Hay Barn together as a group?
We try to limit the groups traveling through to about 6 people. Some of the areas in the haunt are smaller/tighter so its easier for everyone to enjoy to experience with less in the group. However we do offer group rate pricing for parties over 10 people!
Does HorseAbility Haunted Hay Barn offer any special deals, discounts, or coupons?
The Haunted Hay Barn runs a lot of promotions for coupons/discounts, many can be found here on lihauntedhouses.com and additional deals also can be found on our social media.
Anything else you'd like to let us know about HorseAbility Haunted Hay Barn?
If you come down to the haunt in addition to the house you can enjoy our carnival games, refreshment stand, selfie booth, and you might even see catch some clowns with ponies in our courtyard! We are located on the campus of SUNY Old Westbury but be sure to use the address for the school across the road (99 Cedar Swamp Road, Jericho) as our address will bring you to a locked gate. Parking is in the main campus center parking lot.