A Haunted Christmas Comes to Bayville's Winter Wonderland this Holiday Season!
Home » Blog » Long Island's Best Weekend Events, LIHauntedHouses.com News and Updates, Long Island Haunt News
November 29, 2018 By Chelsea T.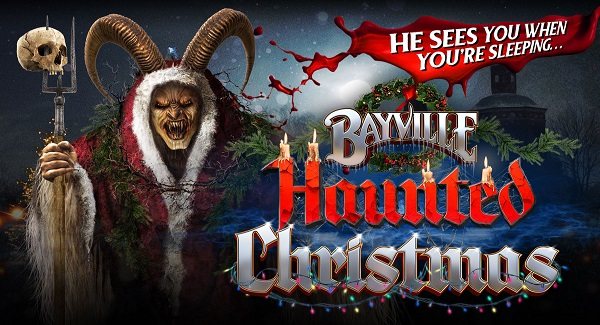 During the Halloween Season, Bayville Scream Park features a number of terrifying attractions for locals to enjoy. Now, during the holidays, the theme park transforms into a magical Winter Wonderland.
But, there's someone not so cheerful on the grounds, and he's known as the demonic Christmas beast, Krampus! Meet him this holiday season, along with some other horrifying characters that will be taking over the park to petrify thrill seekers.
Do you have what it takes to brave A Haunted Christmas at Bayville's Winter Wonderland? There's only one way to find out!
Dates:
First Weekend: December 7th-9th
Second Weekend: December 14th-16th
Third Weekend: December 21st-23rd
Times:
Fridays: 8:30-11:00 PM
Saturdays: 8:30-11:00 PM
Sundays: 7:30-9:30 PM
Click here for more details and to purchase your tickets ahead of time.