Frightening Fun in Store this Halloween Season at Falcon Cemetery in Levittown!
Home » Blog » Long Island Haunts: An In Depth Look
August 10, 2018 By Haunt News & Press Releases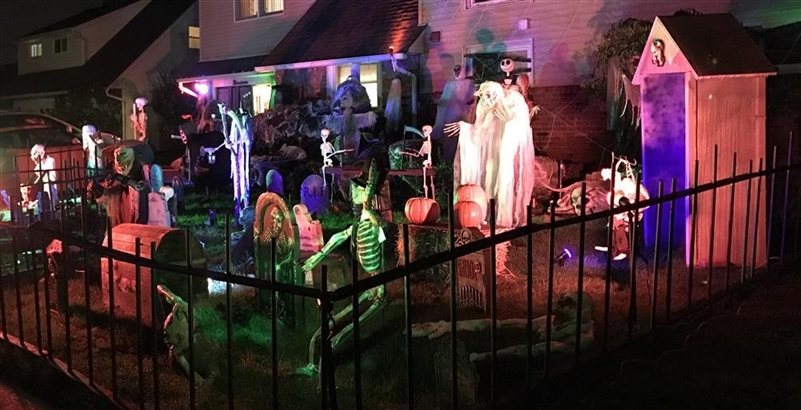 LIHauntedHouses.com recently sat down with Steve of Falcon Cemetery, to discuss what's new at Falcon Cemetery for the 2018 Halloween Season! Located in Levittown, this home haunt gives locals a scary-good experience to enjoy during the spooky time of year.
What's new at Falcon Cemetery for 2018? Do you have any new rides, attractions, or special features that Haunt Seekers should know about?
We always have something new! I work year round to build new props and set pieces for everyone to enjoy. The haunted house changes themes every year, so you will never have the same experience twice. This year's themes include: Nuclear Meltdown, Children of the Corn and Jailbreak. The yard display will be jam packed with large props this year. The queue line will have some additional interactive props. We're also introducing our Line Creep Pass! Our haunt is free and we accept donations but, if you donate $50 or more directly to our Leukemia and Lymphoma Society page you'll receive a Line Creep Pass with front of line benefits and more!
What are you most excited about for the 2018 Halloween Season?
I'm excited for our turn out this year. Last year was the first year we partnered with the Leukemia and Lymphoma Society and Light The Night. This year we plan on utilizing their events to promote the great work we do. I think, if people can be inspired by the work that just one person does to decorate their house, then imagine all the good we can do as a community for a great cause like cancer research.
What differentiates Falcon Cemetery from other local haunts in Long Island?
Love. I'm just kidding. I really pride myself on the uniqueness of most of my props. Nearly 85% of everything you see has been hand made from scratch or edited by myself. I've had a hand in everything from the props, to the lighting to the music. Everything is my own creative vision and it's the purest form of expression I have.
How long has Falcon Cemetery been in business? Can you tell us a bit more about Falcon Cemetery's history?
Well, I started when I was young, maybe 13 or 14? I've always loved Halloween as a kid. I loved shopping for decorations and making costumes with mom. I eventually took to the internet and learned there was a whole world of DIY Halloween goodness. I started small by making a talking skull as my first animated prop which is still used in the haunt today. It grew larger as my skill set became wider. Eventually allowing strangers to walk through my garage to see what I had made. Until it exploded and couldn't fit inside anymore. Now I have a full yard display, interactive queue and walk through haunted house all designed and built by myself :)
What's your favorite experience since opening Falcon Cemetery?
Even dressed as a zombie in full theatrical makeup, returning victims still recognize me. When I expanded out of the garage my first SERIOUS haunt season about 9 years ago, I built a haunted house out of plywood on the driveway. It was huge and expensive and I needed lots of black paint. I went to the east meadow Home Depot and a nice man offered to mix me some very inexpensive paint after explaining what I was doing. He was invested immediately. I never forgot his help. Last year, he spotted me in full costume, walked up to me and whispered in my ear: "I don't know if you remember me, I helped you years ago with some black paint at home depot, I just wanted to say that I come to see what you make every single year and its fantastic and I'm really proud." I'll never ever forget that.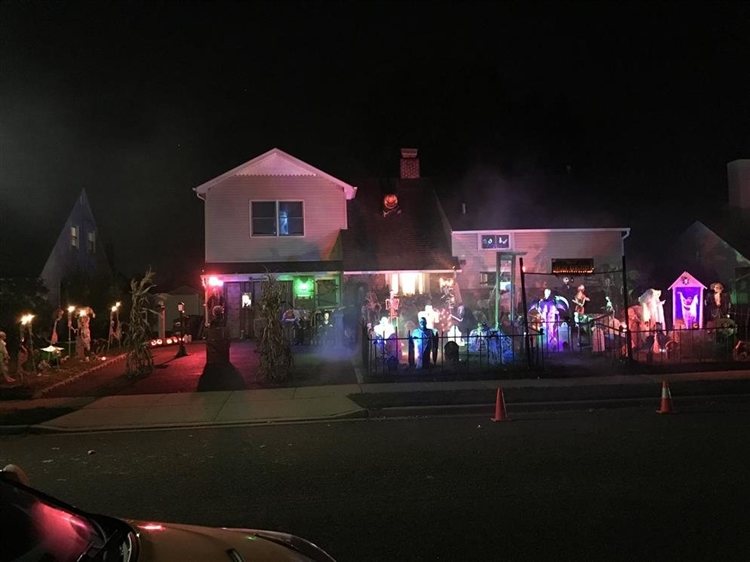 How long is a typical haunt experience at Falcon Cemetery from start to finish?
People can expect to spend anywhere from 30 minutes to an 1 hour I'd say. There sure is a lot to look at. It all depends on how observant you are and if you can spot the little surprises I've planted here and there. Besides both sides of the yard, there's the driveway which functions as the queue line for the haunt which has some interactive goodies to play with, we have live actors inside and outside who will follow you and the walk-through itself takes about 10 minutes.
On a scale from 1 to 10, how scary would you say Falcon Cemetery is? Why?
I'm going to give it a 7. While I don't depend on gore to get my fear factor up there I do rely heavily on the element of surprise. And you WILL be surprised.
Does Falcon Cemetery's property have any real haunted history? Do you have a spooky encounter you'd like to share?
I do have a few deceased pets buried on property. All the spiritual encounters are 100% authentically fabricated.
What inspired you to open up a haunted attraction? What's your favorite part of the business?
Honestly, it was trick or treaters. I wanted to make something special for them. If there was anything like what I've made when I was a kid, I would have been blown away. My favorite part is how thankful people are. I have people drive from out east or the NYC area just see what I made and the appreciation is overwhelming.
How has new technology (i.e. animatronics, special props, etc) helped you to enhance Falcon Cemetery?
It's my favorite part, there's an art to getting something static to move the way you want it to. I love staying up to date with the latest trends like projection mapping and digital effects. It helps take my creativity to new heights.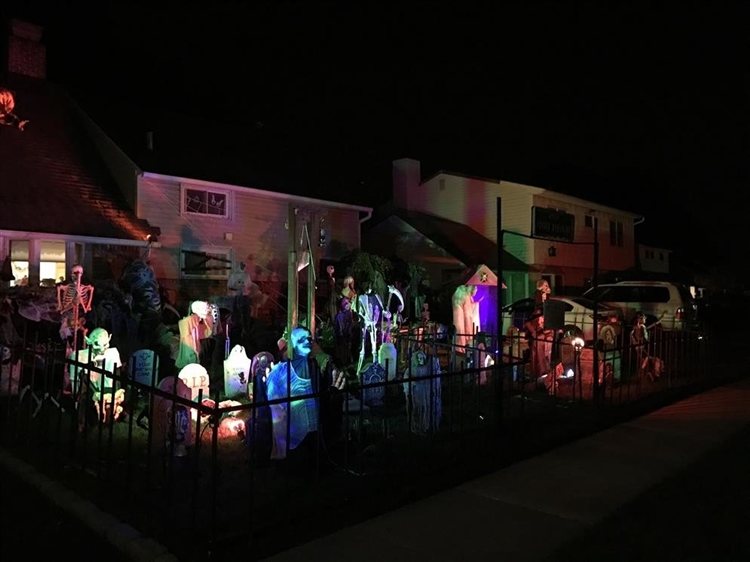 Can Falcon Cemetery accommodate large groups? How many people can experience Falcon Cemetery together as a group?
Our max group size is 6 for the walkt-hrough as some of the doorways cause bottle necking. The front of the property has no limits bring your whole family!
Does Falcon Cemetery offer any special deals, discounts, or coupons?
I'm so glad you asked! Our haunt is free. $0. BUT we do accept donations for the Leukemia and Lymphoma Society! 100% of the proceeds go straight to them. If you would like to skip the line you can get a Line Creep Pass by donating $50 or more to our Light The Night Team. You can do so from our website! We Scare Because We Care :)
Anything else you'd like to let us know about Falcon Cemetery?
I do all of this myself because it's special to me. I'm not looking to make money. I'm just looking to create a tradition for you and your family.