Tons of Scary Good Fun Happening this Halloween Season at Falcon Cemetery!
Home » Blog » Long Island Haunts: An In Depth Look, LIHauntedHouses.com News and Updates
August 1, 2017 By Haunt News & Press Releases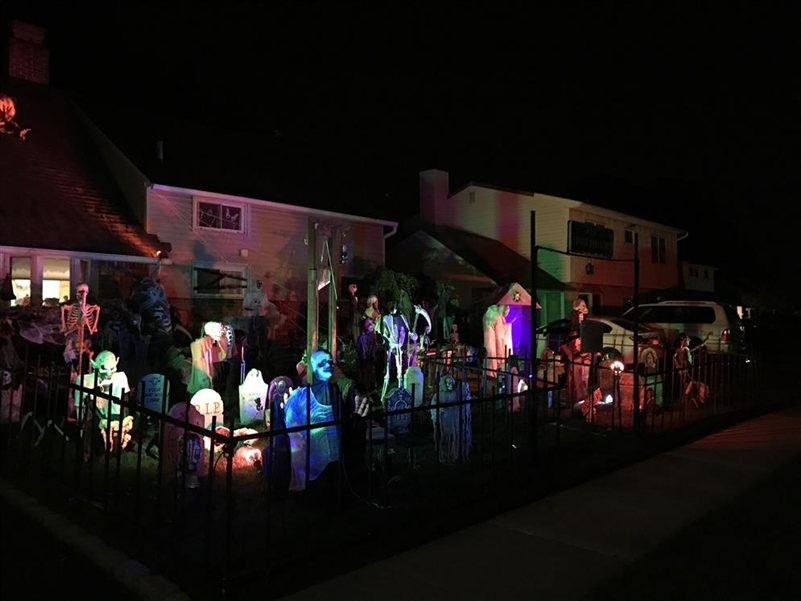 Happy Halloween! I'm the brains behind the operation!
LIHauntedHouses.com recently sat down with Steven Blum of Falcon Cemetery, to discuss what's new at Falcon Cemetery for the 2017 Halloween Season! Located in Levittown, Falcon Cemetery is a home haunt that first began their journey scaring locals ten years ago in a garage. Now, the thrills and chills take place as a fun and entertaining yard haunt!
What's new at Falcon Cemetery for 2017? Do you have any new rides, attractions, or special features that Haunt Seekers should know about?
New For 2017! Our trick or treat lair will expand into a haunted walk-through / trail! Lines should be much shorter as guests will not enter and exit through the same door. We will also have several new large scale props so look out for those! We also have an updated website you should check out.
What are you most excited about for the 2017 Halloween Season?
This year will be our biggest year yet! We will be expanding our yard display to the edge of our property as well as expanding our trick or treat lair into a walkt-hrough! This year is a cave theme ;)
What differentiates Falcon Cemetery from other local haunts in Long Island?
Our haunt expands every year! You will always see something new and we do our best to change it up every year. We are also expanding our team and will have more actors than previous years. We are a tech heavy haunt and have many custom made animatronic figures that you cannot see anywhere else. Besides decorations we also have many special effects, there's something to see on every inch of the property!
How long has Falcon Cemetery been in business? Can you tell us a bit more about Falcon Cemetery's history?
About 10 years ago, Falcon Cemetery started out as a modest garage haunt within a residential neighborhood. It eventually grew larger and more elaborate evolving into a temporary structure that consumed a garage and driveway. After a 4 year hiatus to complete a college education, we returned with a vengeance against all the lost time. We have now grown into a community phenomenon. An elaborate yard display featuring hand made animatronics, lighting and fog effects, live actors and of course candy. We haven't forgotten our roots though, as the garage is transformed each year with a new theme. We hope to see you year after year as we pour whatever is left of our soul into the work that we do. Happy Halloween.
What's your favorite experience since opening Falcon Cemetery?
Last year we really had the actors get more involved. We created some new props just for them to roam around with last year and people really responded to it. Don't think you're safe because you're not!
How long is a typical haunt experience at Falcon Cemetery from start to finish?
People tend to spend about half an hour to an hour at the haunt whether they are taking in the scenery or waiting in line for the walk-through.
On a scale from 1 to 10, how scary would you say Falcon Cemetery is? Why?
I'd say about an 8. We aren't about horror as much as we are into being detail oriented and make great use of the element of surprise.
Does Falcon Cemetery's property have any real haunted history? Do you have a spooky encounter you'd like to share?
We have had several electronic items turn on by themselves so we may have actual ghosts helping us out...
What inspired you to open up a haunted attraction? What's your favorite part of the business?
As a child I took my firsts steps on Halloween. It's in my DNA. The community aspect of creating props is unmatched. Its been a love of mine as far back as I can remember and I'm glad we get to share that with the community.
How has new technology (i.e. animatronics, special props, etc) helped you to enhance Falcon Cemetery?
I think it really helps us stand out. I guarantee we have things you've never seen before because they are hand built and really help engage spectators.
Can Falcon Cemetery accommodate large groups? How many people can experience Falcon Cemetery together as a group?
We can definitely accommodate large groups within reason but smaller groups make for a better experience in the walk-through. We do have a small alcove in the center of the haunt to get a better look and you get to be up close and personal with the cemetery.
Does Falcon Cemetery offer any special deals, discounts, or coupons?
We don't charge for entry! We encourage donations for charity but they are not mandatory. This year we will be having a t-shirt giveaway contest! More info about that will be available on our Facebook page.
Anything else you'd like to let us know about Falcon Cemetery?
If you've never been - check us out! If you've been before - come back! We always have something new and we never disappoint. It's worth the drive and your family will love it!