It's Your Last Chance to Check Out the Festive & Frightening Fun at Escape the Dark: Horrible Hanukkah at NYZ Apocalypse!
Home » Blog » Long Island's Best Weekend Events, Long Island Haunt News
December 15, 2016 By Chelsea T.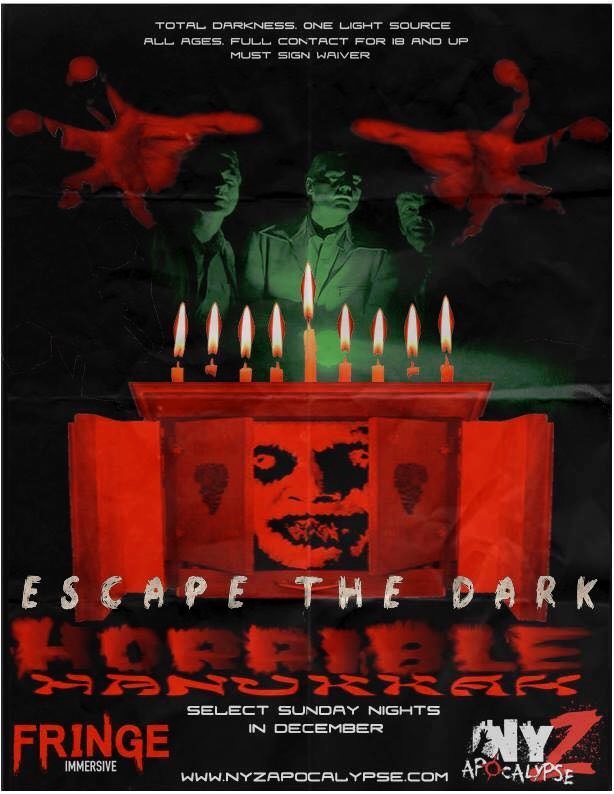 Can You Escape the Dark?
Wander through this interactive, immersive survival horror experience at NYZ Apocalypse while celebrating the Holiday Season! Horrible Hanukkah mixes haunted houses, escape games, and video game interactivity into an intense and terrifying holiday attraction.
NYZ Apocalypse has been collaborating with Fringe Immersive to come together and create new and innovative ways to bring survival experiences to wider audiences and on Sunday, December 18th, is the last chance for visitors to experience 'Horrible Hanukkah!'
Thrill seekers will get just one light source, and will be forced to navigate through a pitch black maze and participate in skits with actors to move on to the next room. BEWARE - as actors are allowed to touch and grab those who have signed a waiver, do you have what it takes?
Escape the Dark: Horrible Hanukkah will take place from 7-10 PM. Click here to purchase your tickets ahead of time!