'Clown Beatdown' Taking Place at NYZ Apocalypse this Halloween Season!
Home » Blog » Long Island's Best Weekend Events, LIHauntedHouses.com News and Updates, Long Island Haunt News
September 27, 2017 By Chelsea T.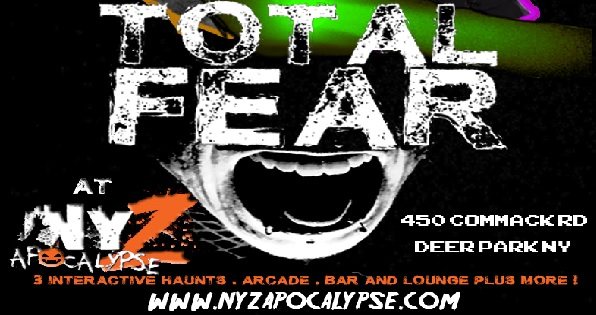 For those scared of clowns or simply fed up with scary clown sightings, this Halloween season, TOTAL FEAR at NYZ allows guests to face their fears and battle it out in a live-action, fully immersive and interactive horror environment.
Known for their zombie survival experience, NYZ Apocalypse has joined forces with sister company Strikeforce Sports and NY art collective Fringe Media Inc to create three new haunted houses for this October and of those deals directly with clowns..
Clown Beatdown is a haunt unlike any other in New York. It is one of three attractions to choose from this year at TOTAL FEAR and it has some people concerned as guests are not only encouraged to hit and beat actors, but they're given a weapon to do it.
Such things fly in the face of convention for haunted houses as most will tell you not to touch their actors.
Clown Beatdown is a response to both people's fear of clowns and their want to beat up clowns. Our goal is to not offer the casual haunt experience. We like to push limits. Test reactions and ultimately offer something unique and fun guests will remember" said Marketing Director, Will Puntarich.
Clown Beatdown is described as a "first of its kind" haunted house where guests are facing off a gang of killer clowns and must beat their way to safety or else get beat themselves. Each group member is given a foam melee weapon and is allowed to use that weapon to defend themselves against an onslaught of red nosed aggressors.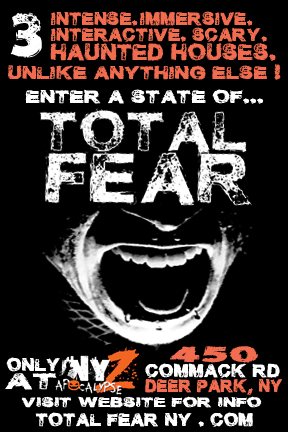 Set inside a warehouse, sharing space with another immersive haunted house City of the Dead, Clown Beatdown breaks the coveted "don't touch and we won't touch you" rule and thrusts attendees into another level of interaction.
"We've developed several full contact haunts since 2013; this is just the next wave of that. You're giving the guest a weapon to defend themselves. Things are becoming more interactive and video game like. Now there is balance between actor and patron and a whole new way of haunting" said Puntarich.
Total Fear will also revive its "Escape the Dark" attraction for 2017, where guests must navigate a haunted maze armed with only a single flashlight. Participants will join a team and must find their way out of a pitch-black environment while fending off demonic ghouls. The goal is to locate and free others whom have been taken prisoner by the possessed entities.

Guests also have the opportunity to participate in an immersive "Zombie Survival" experience where they are armed with a laser rifles and must fight their way out of "The City of the Dead," an environment heavily infested with the "living dead" actors.

Presented by NYZ Apocalypse and New York art collective Fringe Immersive, these are frightening, intense experiences designed for guests 16 years of age or older. All participants 18 years of age or older can opt-in for full contact immersion. Advance tickets are available for purchase on the website and tickets will be available for purchase at the door. Cost per ticket is $27.50 per experience or $62.50 for all three experiences as part of the "Total Fear" package. Attractions are open from 8 p.m. to 1 a.m. (midnight) on Fridays and Saturdays and 7pm-10pm Sunday's and Thursday during the month of October. Opening night is September 30th at 8pm.
For more information and tickets, visit www.NYZApocalypse.com. For press inquiries, contact Will Puntarich at Paradise Advertising Inc. at will@nyzapocalypse.com.