A Terrifying Twist on the Holidays: Chamber of Horrors Presents 'A Very Scary XMAS' Fundraiser!
Home » Blog » Long Island's Best Weekend Events, LIHauntedHouses.com News and Updates, Long Island Haunt News
November 14, 2017 By Chelsea T.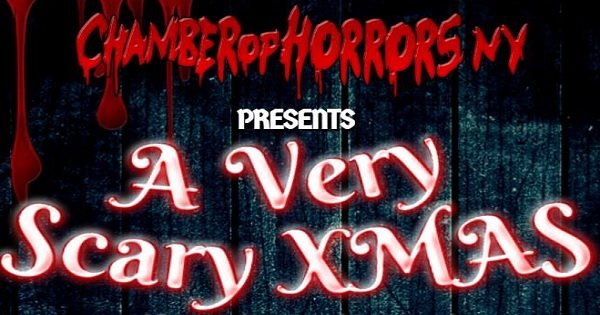 Add Some Festive Fright to Your Holiday Season!
Photo by:
Chamber of Horrors NY via Facebook
Halloween may be over, but Chamber of Horrors in Hauppauge is stirring up some serious scares for the Holiday Season with their "A Very Scary XMAS" haunt! The special event will take place on December 8th, 9th, 15th & 16th, giving thrill seekers two weekends of frightening fun.
The holiday haunted attraction will feature two haunts, including Tales of Terror, which is jam-packed with some killer stories and a collection of creepy characters such as Krampus, Killer Snowmen, Killers and Zombies throughout a Victorian mansion.
The second attraction is Santa's Workshop, which has been transformed from a lovable atmosphere into an industrial factory that creates demonic toys. Be prepared, as you'll meet the Killer Teddy Bears, Maniac Wooden Soldiers and more!
Visitors will be greeted with Christmas carols upon entering, but soon enough they'll notice they have quite an eerie tone to them. Once guests brave the two haunted attractions, they can even snag a photo op with a demented Santa Claus!
What's even better about "A Very Scary XMAS" is that it is doubling as a fundraiser to assure that Chamber of Horrors can return for the 2018 Haunting Season after being broken into recently. According to the haunt's Event Page on Facebook, a number of items were stolen from the safe, including a large portion of tickets sales from this past Halloween Season.
So, grab some of your bravest friends and enjoy some holiday horror, all while supporting Chamber of Horrors and their 2018 Halloween Season return! Donations are also being accepted, please email Retrosoulsny@gmail.com for details.
Tickets are just $15 to both attractions. Click here to purchase yours in advance today!