Chamber of Horrors NY Introduces Night of Payne, a New Horror & Full Contact Experience – Coming June 2nd!
Home » Blog » Long Island's Best Weekend Events, LIHauntedHouses.com News and Updates, Long Island Haunt News
May 29, 2018 By Wendy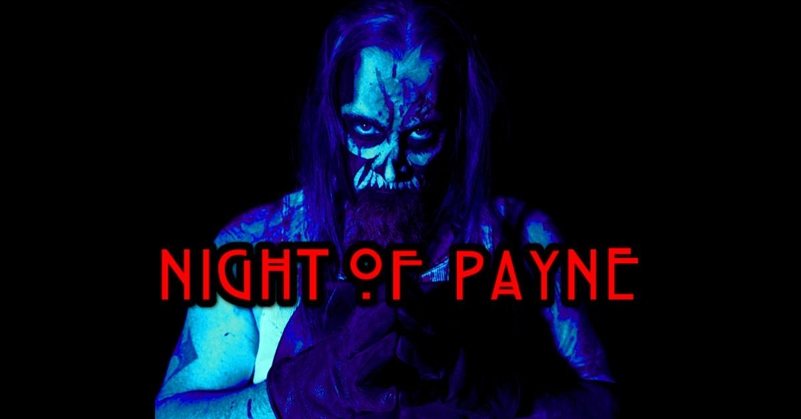 Night of Payne at Chamber of Horrors NY.
Photo by:
Chamber of Horrors NY
Come Saturday, June 2nd, it's Initiation Night to join The Cult, an infamous group of serial killers and deranged individuals. Chamber of Horrors NY introduces Night of Payne, extending an invitation to you for The Cult's Initiation Night if you dare to join. Immerse yourself in a fun night of horror. Cult members have committed mass murders and they are ready to commit to more kidnappings, torture and other cult sacrifices on this night. You'll also meet Payne Ripper (a.k.a. Father) of The Cult.
This is a fully immersive, full contact experience and an all-night event! All attendees must bring a sleeping bag or a blanket and a pillow to sleep on. The night starts with you entering the darkened facility of The Cult in hopes of joining the infamous group. All are recommended to also bring a change of clothing as you will get wet and dirt on you.
Night of Payne runs from 9 pm on Saturday, June 2nd, till 8 am. on Sunday, June 3rd. Admission is $60. Purchase your tickets here today! This event is open to those age 18 and over only!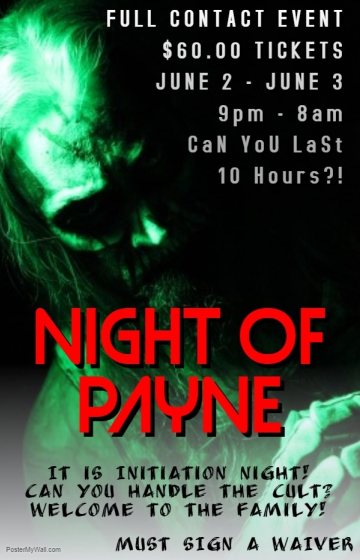 Event: Night of Payne
Event Date: June 2 – 3, 2018
Event Time: 9 pm – 8 am
Event Location: Chamber of Horrors NY, 1745 Express Dr. N, Hauppauge, NY 11788
Event Website: Chamber of Horrors NY: Night of Payne