Banned Horror Attraction Returns to LI Haunted House
Home » Blog » Press Releases
October 15, 2019 By Haunt News & Press Releases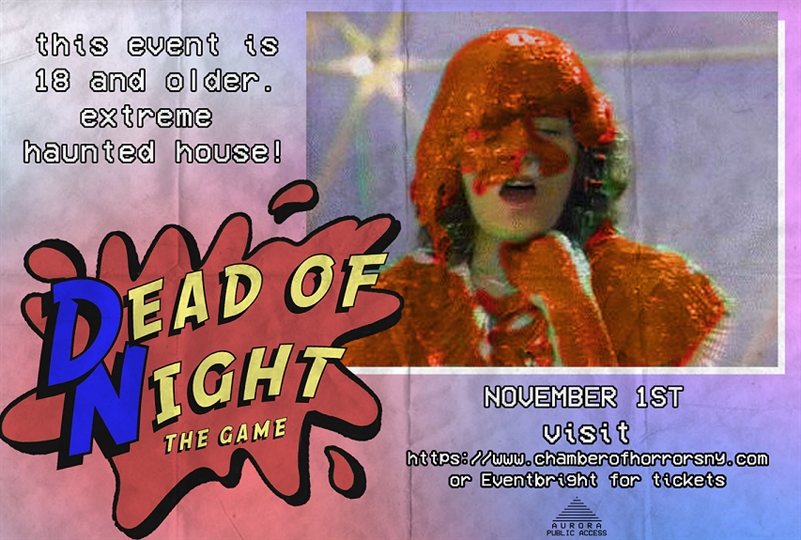 Hauppauge, NY - October 15, 2019 —Long Island haunted house Chamber of Horrors NY gets scarier every year but on November 1st and 2nd; Chamber of Horrors NY is going to become the scariest Halloween experience in the Tri State area. In 2013, Chamber of Horrors NY and New York based art group Shock Theater launched the 18+ terror show Dead of Night, a brutally extreme immersive experience focusing on real world fears and social issues.
Dead of Night isn't your traditional Halloween event. It's an age restricted survival horror simulation that you have to sign a waiver to enter, actors can and will touch guests, the whole experience can last as long as an hour or more for unlucky souls that don't scream the safe word and if you're thinking of looking your best, don't. Guests who survive the Dead of Night experience have been known to leave with their clothes ruined and destroyed.
2015 was the last year for Dead of Night at Chamber of Horrors NY but Shock Theater continued the storylines under different names at different venues in New Jersey and New York. Dead of Night was known for being a controversial haunted house using adult themes and situations to immerse and get their scares like surviving a police state, joining a satanic cult and becoming a test subject in real life mind control experiments the U.S Government facilitated and conducted during Project MK Ultra.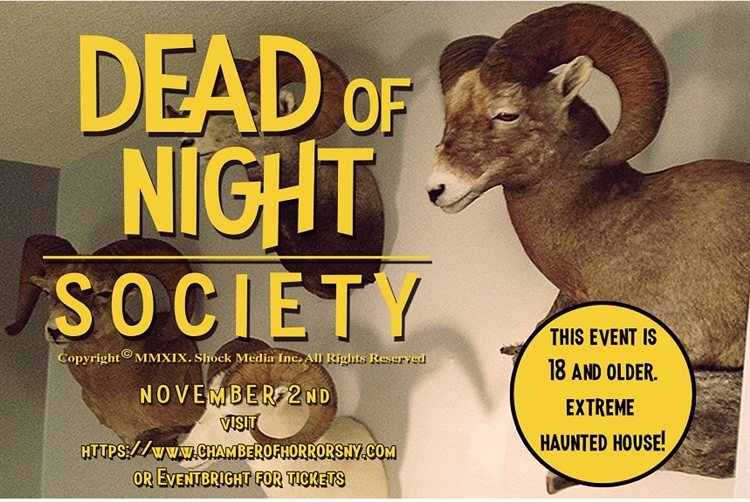 As a haunted house, Dead of Night was considered one of the most extreme haunts in the states and often blurred the line of fiction and reality so well, many who went through would leave confused and unsure if what they had just watched and participated in was actually just a show and not some strange ritual. For one guest, the experience was so real; he hired a lawyer and attempted to sue Shock Theater and Chamber of Horrors NY to get his soul back from the creators as reported by media outlets Complex and Uproxx
(www.uproxx.com/viral/man-sues-haunted-house-over-satan/). The man in question went to 2014's Dead of Night: Initiation, often regarded as the vilest and most evil of installments in the series which explored the topic of cults and believed he actually gave his soul to the devil.
For 2019, Shock Theater and Chamber of Horrors NY are looking to finally conclude their Dead of Night experience by offering a different and unique theme for each night of the show. November 1st, can you survive Dead of Night: The Game? Guests find themselves sucked into a 90's TV game show where they must endure physical and mental challenges including eliminating a group member at the end of each attraction. Activities resemble a mix of haunted house, fun house, obstacle course, escape room and live action role playing. November 2nd join the elite in Dead of Night: Society where you and others find yourselves being sold into slavery by a group of human traffickers based off of horror films like Hostel and more.
Tickets for Dead of Night: The Game & Society are extremely limited and only 200 passes will be sold each night. Dead of Night takes place on November 1st and 2nd 2019, located at Chamber of Horrors NY in Hauppauge. Doors open at 7pm, tickets are available at www.chamberofhorrorsny.com/dead-of-night and at the door, guests must be 18 or older to enter, guests must sign waiver and are advised not to wear clothing they care about. Guests are warned before they enter that Dead of Night last for an extended period of time and is an extremely intense horror experience not meant for the faint of heart. For questions and more information, contact shocktheaterevents@gmail.com