New Holiday Horror Show has Guests Up in Arms… Literally!
Home » Blog » Long Island's Best Weekend Events, Long Island Haunts: An In Depth Look, Press Releases, Long Island Haunt News
November 30, 2015 By Haunt News & Press Releases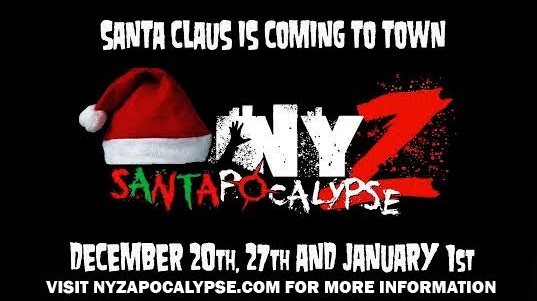 Photo by: NYZ
November 30, 2015 - Deer Park, NY - Holiday haunted houses are nothing new. They're all over the country now, springing up everywhere. There was one on Long Island last year and there will probably be more sooner than later.
As fear seekers come out of the 2015 Halloween season, they won't have to wait too long to get another scare in before the year ends. NYZ Apocalypse, a year round action packed scare experience in Deer Park, NY is offering a three day holiday horror show that isn't so holly and jolly. Shopping Mall Santa Zombies are taking over and only you can stop them!
Santapocalypse is coming to NYZ and they have a message for you:
"Recent excavations at the Apollo Prison System (APS) located at 450 Commack Road Deer Park, NY have unearthed one of the most disturbing medical experimentation rooms yet to be found at the zombie infested facility.
It seems the US Government had plans to insert Shopping Mall Santa Super Soldiers throughout America to guarantee our safety, but the infection made its way throughout the stricken Apollo Prison before these soldiers could be released to perform their duties. There are now Hundreds of Shopping Mall Santa Zombies roaming free at the Apollo Prison System.
We are calling upon the good citizens of the New York area to visit the Apollo Prison System on Sunday December 20th, Sunday December 27th, and Friday January 1st to help eliminate the scourge of Shopping Mall Santa Zombies. Experts have indicated that 3 days of battle should be sufficient enough to utterly destroy this latest outbreak."
Sounds like a great way to spend the holidays with friends and family, leave the kids at home for this one and remember to visit NYZapocalypse.com to book your times for this 3 day event!
Photo Gallery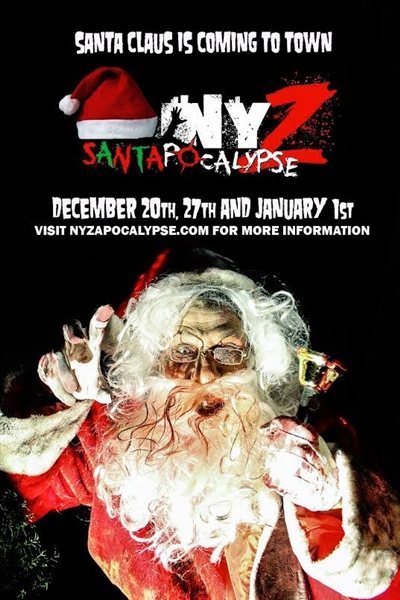 Source: NYZ